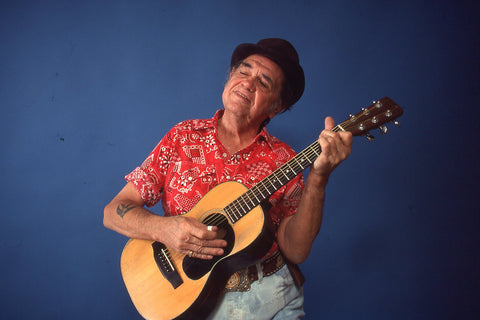 FIRST TIME ON DIGITAL AND STREAMING
Revived from the CMH archives, Merle Travis' album Rough, Rowdy and Blue is out today (2/10) on all digital and streaming platforms. The collection, first released on vinyl and cassette in 1986, showcases timeless and distinctive guitar picking from the Grammy award winner and Country Music Hall of Fame inductee.

Although he was known for his country music, in 1982, just before his death, Merle sat down to pay tribute to the songs and stylings he always wanted to record. These special recordings of Merle playing the blues on a 12-string guitar are now digitally available for the first time. The 12 original recordings feature Merle Travis performing some of his favorite blues standards like "Cocaine Blues" and "Jelly Roll Blues." The songs "Key to the Highway" and "On the Outskirts of Town" pay tribute to blues guitarist Big Bill Broonzy, while songs like "Whiskey," "Honey, Take a Whiff on Me" and "Stack O'Lee" lend character to the album's title: Rough, Rowdy and Blue.

Raised in coal mining country in Muhlenberg County Kentucky, Merle Travis was an entertainer his whole life. He began performing at country dances and quickly moved on to radio shows, developing his distinctive style of guitar picking. The style was taught to him by Kennedy Jones, Mose Rager and Ike Everly (father of The Everly Brothers), who had in turn learned it from pioneering blues musician Arnold Shultz. Merle also owes a great debt to African-American blues guitarists Blind Blake, whose early finger picking influenced Merle's now famous playing. The Travis style of picking would evolve to include elements of blues, ragtime and jazz, as well as country, folk and gospel. By plucking a bass line with his thumb and simultaneously picking melodies and strumming chords with a few fingers, an orchestration of sound would emerge to a delighted audience.
Track List for Merle Travis' Rough, Rowdy and Blue:
Cocaine Blues
Cairo
Jelly Roll Blues
Merry Christmas, Pretty Baby
Key to the Highway
(I'm Gonna Move Way Out) on the Outskirts of Town
Stack O'Lee
Whiskey
Step It Up and Go
Dry Bread
Honey, Take A Whiff On Me
Too Mean to Cry